If You Want to Learn 'How to Write,' Study David Ogilvy's Writing Tips
When I first started as a copywriter, I studied the words of Gary Halbert, Claude C. Hopkins, and David Ogilvy. Writing tips from each of these brilliant minds from the fields of copywriting, marketing, and advertising respectively are invaluable. I spent hours reading their ideas and handwriting some of their best pieces of copy, ads, and content.
If you're reading this, you might be a newbie copywriter looking to get started in the game. Maybe you're a seasoned marketer simply refreshing your memory. Perhaps you're an experienced business owner looking for a new perspective on things. You may not be as obsessive as I was about learning the art of copywriting, but you may be interested in a few good books to improve your writing.
Today, I'll introduce you to the wisdom of David Ogilvy, a man known as the 'Father of Advertising.' The following is an excerpt from The Unpublished David Ogilvy: A Selection of His Writings from the Files of His Partners.
David Ogilvy's 13 Writing Tips:
The better you write, the higher you go in Ogilvy & Mather. People who think well, write well.
Woolly-minded people write woolly memos, woolly letters, and woolly speeches.
Good writing is not a natural gift. You have to learn to write well. Here are 10 hints:
Read the Roman-Raphaelson book on writing. Read it three times.
Write the way you talk. Naturally.
Use short words, short sentences, and short paragraphs.
Never use jargon words like reconceptualize, demassification, attitudinally, and judgmentally. They are hallmarks of a pretentious ass.
Never write more than two pages on any subject.
Check your quotations.
Never send a letter or a memo on the day you write it. Read it aloud the next morning—and then edit it.
If it is something important, get a colleague to improve it.
Before you send your letter or your memo, make sure it is crystal clear what you want the recipient to do.
If you want ACTION, don't write. Go and tell the guy what you want.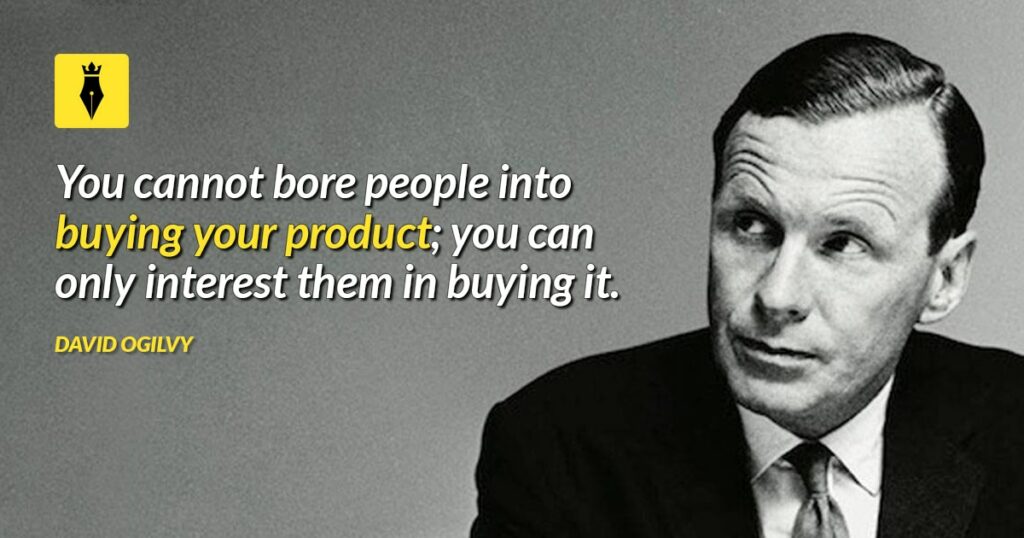 Want more David Ogilvy?
Confessions of an Advertising Man
Ogilvy on Advertising
The Unpublished David Ogilvy